İzmir, Turkey's third biggest city with western vibe, is known for its liberal cosmopolitan atmosphere. İzmir has been attracting tourists from different countries because of its spectacular nature, beauty, and historical places. İzmir is a cosmopolitan city with a diversified economy, and its economy consists mostly of industry, trade, transportation, agriculture, and tourism. Property investment in Izmir has been in great demand lately. The history, culture, and mesmerizing nature of Izmir make it a great real estate investment for foreign people. The city proper of Izmir does not attract many international tourists, as people mostly prefer to visit touristic places such as Çeşme and the picturesque towns along the Aegean coast. Ephesus, the ancient port city whose well-preserved ruins are in modern-day İzmir, and a shrine where The Virgin Mary is believed to spent her last years, should be visited at least once.
İzmir offers great opportunities for tourists to live and invest in its real estate with the promise of getting a Turkish Passport. With the country's Citizenship by Investment program, though recently raised to $400,000, you can get a Turkish passport by buying real estate. Living in Izmir is quite affordable, especially compared to the UK or European cities. With a limited budget, you can get a well-designed and furnished apartment in a livable neighborhood of a dynamic city of 4 million people, with stunning views, and get a chance to live in one of the world's most beautiful regions. Buying real estate and living in Izmir has too-many-to-count perks because the city offers something to everyone. The following are some of the advantages of buying real estate and living in Izmir, Turkey.
Job opportunities
Living at affordable prices
Delicious Aegean food culture
Tourism industry
Obtaining Turkish passport by property investment
Effortless process of property buying
Stunning nature, sea, and beaches on the Aegean coastline
Historical places
In which neighborhoods to make a real estate investment in İzmir Turkey?
Karşıyaka
Karşıyaka is located six kilometers from the city center and stretches twelve kilometers throughout the gulf of İzmir coast. Karşıyaka means " other side" in Turkish, and the district is known for its elegant houses, livable and pleasant area with spacious buildings. In addition to all these, Karşıyaka is one of the best places to get real estate, and there are many educational institutions and healthcare facilities in the district.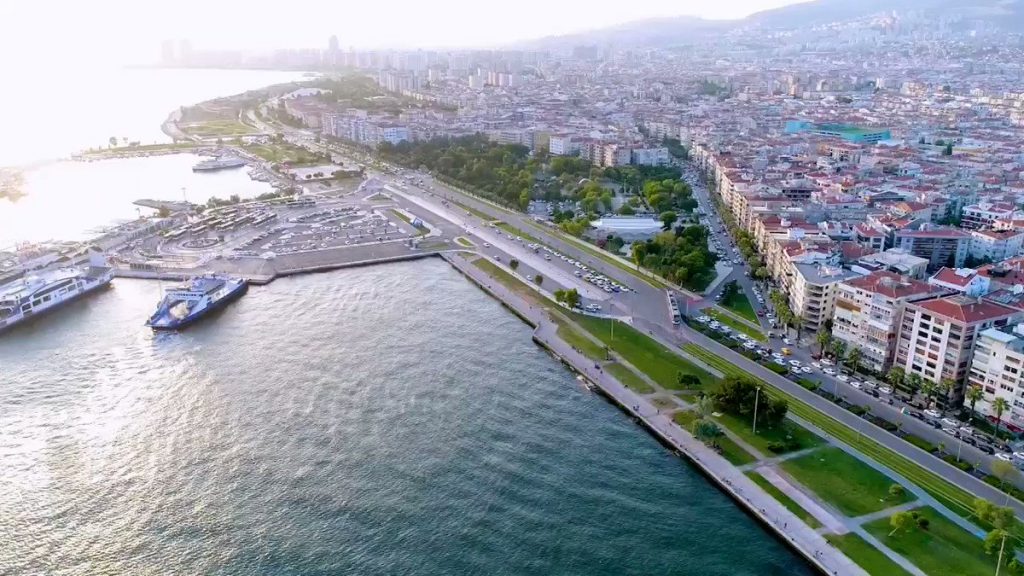 Çeşme
Çeşme is a small and mesmerizing city with excellent architecture, cobblestone streets, delicious food and drinks, vivid nightlife, and relaxing nature. Çeşme is one of the most tourist-attracting regions of İzmir and hosts thousands of local and foreign tourists every year with its unique nature.The city is a great place to look for houses for sale in Izmir for those who want a laid-back, peaceful lifestyle away from the urban turmoil but still want to enjoy a night out, the sea, and a relaxing holiday.
Bornova
Bornova is the third largest district in Izmir and home to a great population of youth due to the presence of universities. There are many social amenities such as the huge shopping mall called Forum Bornova. The city offers a peaceful lifestyle option for people with a high density of bars, and the whole area is green and laid back.
Alaçatı
Alacati is one of the most well-known towns on the Aegean coast, located 10 minutes from Cesme. With its unique beach and crystal clear sea, Alacati is the most preferred destination for people from all over the world to have fun on holidays. Since it's a very windy part of the area, there are many sailing and surfing spots in Alacati. Alaçatı is also famous for restaurants, cafes, and bars that serve delicious food and drinks all day long.
Antalya Home Guide has been one of the leading real estate companies in Antalya since 2022. You can find houses, apartments for sale and rent, villas in İzmir with sea views, and numerous real estates at antalyahomeguide.com at affordable prices. We have become the leading online destination for real estate consulting, and at Antalya Home Guide, we work to help people to find their dream houses and property investment in İzmir & Turkey and overseas. You can contact us at Antalya Home Guide website.